Teeth whitening: the ideal way to remove everyday stains from your teeth
9th February 2016
Teeth whitening treatment is among the quickest and most popular options in cosmetic dentistry. At Denchic Dental Spa in North London, we offer several different options for whitening. Your dentist will be able to help you decide the best method to suit your wants and needs, and fit around your lifestyle.
How teeth whitening works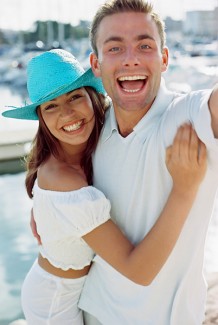 Whitening treatment uses special dental bleaching gel to remove the everyday stains that build up on our teeth. Even people with good oral hygiene find their teeth can become stained, thanks to drinks such as red wine, tea and coffee, habits such as smoking and as a side-effect of some medicines and medicated mouthwashes.
When carried out by a dentist, teeth whitening treatment is a safe and reliable way to get rid of these stains, leaving your smile several shades brighter.
Why do I need to see a dentist first?
Teeth whitening should only be carried out on healthy teeth, to reduce the chances of sensitivity and other problems. The products used at our North London dental practice have all been subject to extensive testing and are entirely safe when used properly.
Whitening products available from the internet and from the high street may not have been tested to such high standards. While some will simply have no effect, others can actually be harmful and could damage your teeth and gums.
What are my treatment options?
At Denchic Dental Spa in North London, we offer three treatment options for teeth whitening. Home whitening uses custom-made teeth whitening trays and gel. You put a little gel in the trays and wear them overnight for approximately two weeks.
Zoom teeth whitening requires just one session with your dentist here at our North London practice. A special lamp is used to activate the gel while you sit back and relax. Enlighten Evolution whitening combines a practice session with home whitening and guarantees a B1 shade result.
Back to Blog