Teeth straightening in the digital age
20th March 2018
When people meet for the first time, they usually greet each other with a smile. This primeval baring of the teeth and crinkling of the eyes says 'I am your friend. I am not a danger to you'. If someone doesn't smile because, say, their incisors never really descended and their teeth all tip in a bit, on an instinctual level, you could well interpret this as: 'I am not your friend and I might do you over'. You probably won't think that it's because they are ashamed of their wonky teeth. In North London, braces are solving this problem for people who have been ashamed to smile. Maybe you can benefit too.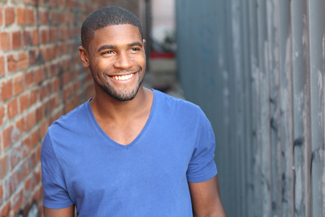 At Denchic Dental Spa we love Invisalign clear aligners. This revolutionary method for straightening teeth relies on digital technology. Rather than traditional brackets, bands and wires, Invisalign uses clear plastic trays, similar to gumshields, that push your teeth into a straighter position.
This innovative take on braces in North London is designed to fit with busy, professional lifestyles, where image is important. The use of transparent, very thin plastic aligners avoids the adolescent look that is frequently associated with train track braces. At only 0.3mm thick, the clear resin trays fit so snugly over the teeth that they almost cannot be seen by the untrained eye. Another bonus is that the aligners hug the teeth so closely that they do not interfere with speech, another plus for working people.
Along with being almost invisible, Invisalign aligners are removable. They unclip from the metal brackets hidden away on your back teeth, and can then be cleaned with a toothbrush, saving time and effort spent trying to remove trapped food. The smooth plastic does not rub inside the mouth either.
You can also take the aligners out for important business or social events, although the aligners do need to be worn for at least 20 hours a day for the treatment to stay on schedule.
Last, but not least, the speed of the treatment, usually about a year, makes Invisalign more affordable.
These North London braces are designed for people only need to realign their teeth and are not suitable for serious bite correction issues.
Back to Blog