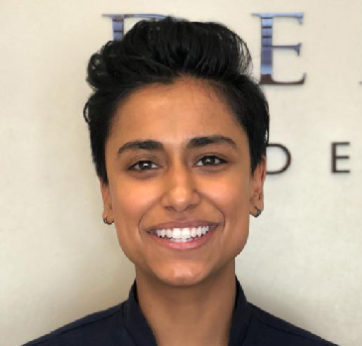 Dr Bindiya
Dentist
BDS (London) MA (Dental Law & Ethics), 6 Months Smile Provider
Bindiya qualified from King's College London in 2011. She began developing her clinical skills with NHS work in general dental practice, where she quickly realised she had a passion to give the best care and comfort to her patients.
She has treated a wide cross section of the community including children, the elderly and those with mental and physical disabilities. Bindiya understands well the apprehension many people feel about a visit to the dentist and her calm and gentle nature gives even the most anxious patients a sense of comfort.
Similar to Dr. Gill she strongly believes in recommending treatment which is only absolutely necessary and in the client's best interests. As her experience increased, Bindiya progressed to a mixed NHS and Private practice. In addition to general dentistry, she is developing an interest in cosmetic dentistry.
After almost a decade in the industry, Bindiya has also seen a number of areas of potential improvement. In 2018 she completed her Masters in Dental Law and Ethics. Her research focused on the Standards for Dental Professionals as published by the General Dental Council, in particular how they were perceived by junior dentists.
Practically, she looked at the impact this had on dentists clinically and otherwise. She has been invited to present her research at The British Dental Industry Association Conference. Additionally, she volunteers as a Regional Associate at the Dentists' Health Support Trust which is dedicated to helping other dentists dealing with mental health and/or addiction issues. Outside work, Bindiya loves dogs, reading and travelling.
Back to Team