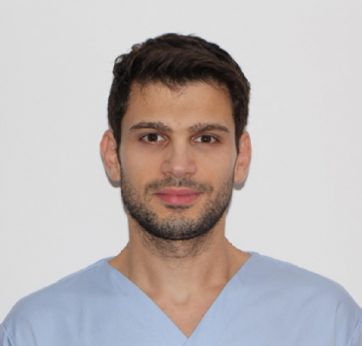 Marios Hadjicharalambous
Oral Surgeon
DDS, MClinDent Oral Surg (Hons)
GDC No.205517
Diploma in Periodontology, Special Interest in Periodontology and advanced gum treatments.
Dr Marios Hadjicharalambous qualified as a dentist from the University of Athens, Greece in 2010. He started his clinical career in several Units of Oral and Maxillofacial Surgery, where he developed a special interest in Oral Surgery and Implantology. He is an experienced dental clinician, with a Diploma in Periodontology and special Interest in Periodontology and advanced gum treatments.
In 2012 he commenced his 3 year speciality training in Oral Surgery (MClinDent programme) at the world-renowned UCL Eastman Dental Institute in London and graduated with Distinction in September 2015. With post graduate training and credentials in Periodontics, Dr Ioannis works in the Oral surgery department at Kings College Hospital where he divides his time doing complex dental surgical procedures and teaching undergraduate students. He has previously worked at the Oral and Maxillofacial department in Milton Keynes Hospital and in various private practices across London, undertaking namely Oral Surgery, Implantology, and dealing with cases involving Temporomandibular Joint Disorders and Oral Pathology.
His areas of clinical expertise are all forms of intra-oral surgery including removal of impacted wisdom teeth, removal of benign lesions in the mouth, dental implants and temporomandibular joint disorders. Marios is passionate about delivering modern dentistry based upon the best available research.
He has recently become a member of The Royal College Of Surgeons and is due to become a GDC registered Specialist within the next few months.
Enhanced skills and special interests: Oral surgery (wisdom teeth extractions, surgical extractions, apicectomies, bone surgery), oral pathology ( mouth diseases, biopsies, temporo-mandibular joint disease), dental implantology.
Back to Team