Six months to a new smile
14th August 2018
What could you do in six months? Maybe finally sort out that growing list of DIY jobs or pick up the basics of a new language. What about creating a brand new smile to show off to all your friends and family? Sound improbable or even impossible? Not anymore. With the help of our experienced dentists at Denchic Dental Spa we can help you straighten out crooked, crowded or spaced out teeth in, on average, just six months. All it takes is investing in our discreet braces in North London and you can walk away with a more confident smile.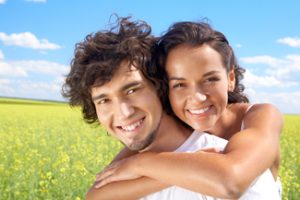 But how exactly is this possible? With Six Month Smiles.
What is Six Month Smiles?
These braces in North London use the same mechanics as traditional fixed metal braces but combine them with innovative design so that you can enjoy straighter teeth without sporting the train track look.
Six Month Smiles uses clear brackets and tooth-coloured wires. This makes them far less conspicuous than their shiny metal counterparts. They also use gentler forces for a more comfortable teeth straightening experience.
How can you get results in six months?
Six Month Smiles braces in North London focus on the front teeth alone. These teeth each have a single tooth root, which makes them easier to shift than teeth further back in the mouth, which have three roots each. That's why you can get results faster than with traditional fixed metal braces, which can take up to two years to complete treatment.
Is Six Month Smiles the right treatment for you?
That all depends on what your dental priorities are. If you want to focus on the teeth that are most on display when you smile, then Six Month Smiles may be the right choice for you. If you want a more holistic treatment, then we can offer other discreet alternatives, such as Invisalign clear aligners. If speed is your main concern, then the Inman Aligner, which focuses on the front teeth alone, could be a good fit. It produces results in a matter of weeks.
To find out which braces in North London are right for you, get in touch with our friendly team and book a consultation.
Back to Blog