Regenerate your smile with discreet braces in North London
15th August 2017
In recent years, an increasing number of adults are looking to straighten their teeth, and where adult teeth straightening is concerned, discretion and speed are the main concerns. The most successful adult braces have proven to either deliver their results as quickly as possible or with the most discretion possible. Many brands aim to deliver more than one of these goals through innovative technology.
At Denchic Dental Spa, we appreciate that some of our patients do not wish to wear unsightly metal brackets and wires. That's why we offer a range of discreet and effective braces in North London that are designed especially for self-conscious teenagers and adults. Whichever of the many treatments available you choose, we will ensure that we provide you with the best possible results.
Invisalign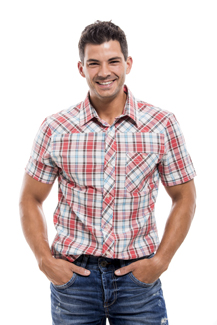 Unlike metal braces, Invisalign uses a series of clear aligners to straighten your teeth over a specific period of time. Invisalign braces are custom-made to fit over your teeth snugly and can be removed to eat and brush your teeth as you normally would. Treatment time varies per patient, although most people having their teeth straightened with Invisalign wear the aligners for 9-18 months. This treatment option is extremely popular amongst adults looking to get the smile they have always wanted without the look or feel of braces.
Inman aligner
An Inman aligner is a removable device, ideal for those who have two or three crooked front teeth. It is an efficient solution to guide protruding or crowded front teeth into the correct position. Unlike most teeth straightening treatments, Inman aligners usually take two or three months for effective treatment. Since the aligner is removable you can take it out to eat or brush your teeth, however, you are advised to wear it for as many hours as possible throughout the day.
It's never too late to improve your smile. If you have healthy gum tissue and a stable jawbone, you may be an ideal candidate for adult braces. To get the best results from your adult braces in North London, contact us and we will book a consultation appointment for you.
Back to Blog