Let us set things straight
11th April 2017
If you are one of the people in the UK that have less than straight teeth, you may have wondered how a straight smile would look. You may have crooked or misaligned teeth, large gaps, twisted or protruding teeth. Perhaps you an overbite, underbite or a crossbite.
Teeth that do not fit together correctly are harder to keep clean and are at risk of being lost because of tooth decay or other dental diseases. It is now easier than you think to straighten out that smile, with braces in North London at Denchic Dental Spa.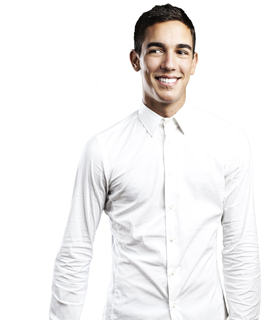 Our dentists will diagnose, treat and prevent irregularities of the teeth with the use of cosmetic braces. Braces are fixed or removable dental appliances. These devices can be used to straighten teeth, correct an irregular bite, close unsightly gaps and bring teeth into proper alignment.
We are also happy to give our patients an Easter offer. This includes 15% off your braces in North London, complimentary teeth whitening and even a free electric toothbrush!
Invisalign cosmetic braces
One of our most popular procedures for braces in North London is Invisalign. It is an innovative new technique designed to take away the pain or discomfort of traditional metal braces. It is a system designed to realign teeth to give you that A-List celebrity smile you have been desiring.
Our braces are completely clear so no-one even needs to know you are wearing them. Imagine a life free of unappealing braces. Denchic Dental Spa has taken steps to provide Invisalign braces at an affordable price. We even offer 0% interest free credit options, with payments spread equally over 12 months.
How do they work?
Invisalign braces in North London work using clear aligners. These aligners gradually reposition your teeth over a period of between 6 to 18 months.
They are also removable so there is no need to worry about having them in for your big night out, as they can be removed in seconds. This also makes them currently the most hygienic braces available. Removing them when you eat means you won't need to deal with food getting stuck between your teeth and your braces. Invisalign therefore gives you greater freedom to get on with your day as usual.
Back to Blog