How teeth whitening can give your smile a quick boost
12th January 2016
Teeth whitening treatment is one of the fastest and easiest ways to boost the appearance of your smile. At Denchic Dental Spa in North London we offer several options for patients interested in whitening treatment: home whitening, in-chair whitening at the practice, or a combination of both.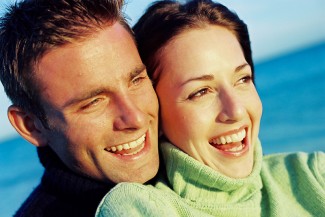 Whichever option you choose, teeth whitening treatment is an effective way to remove the everyday stains that build up on the teeth. Drinks including coffee, tea, and red wine can stain your teeth, as can habits such as smoking, as well as certain medications and mouthwashes. Whitening treatment can combat all of these, as well as the natural dulling of the teeth that can occur as we get older.
The most important thing to remember when it comes to teeth whitening is that, by law, it should only be carried out by a dentist, or a hygienist on a dentist's prescription. While there are treatments available on the high street and online that may seem cheaper, they are undoubtedly too good to be true.
These products are unregulated and could be dangerous. They may simply not work, but could actually damage your teeth and gums. The products we use at Denchic in North London are regulated, tested and safe.
Here are the options available at our North London dental practice:
Home whitening
Your dentist will measure you for custom-made teeth whitening trays. You will be given these, and some whitening gel, to take home, and should wear the trays with a little gel in them overnight for two weeks.
Zoom chairside whitening
This is carried out in the comfort of our North London practice by your dentist. They will shield your gums and lips and will apply whitening gel to your teeth, using a special light to activate it.
Enlighten Evolution whitening
This option combines chairside and home whitening, and guarantees a B1 shade of whiteness.
Back to Blog