Get going on that great smile
23rd October 2018
If you are one of the many people in London dreaming of being the proud owner of a great smile, then don't keep putting it off. For most of us, part of what is wrong with our smile is the alignment of our teeth. We all hanker after teeth that are well aligned, but Mother Nature doesn't confer that kind of perfection on many of us. The majority get straight teeth by wearing braces. In North London, if you are an adult, then you probably won't need much more than cosmetic braces. Cosmetic braces are for people who want to improve the look of their teeth, but whose alignment issues are not so complex or severe that they are interfering with their ability to eat or speak.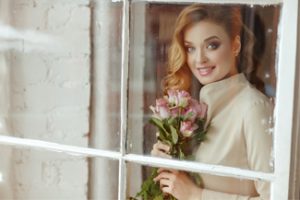 Here at Denchic Dental Spa, we have 3 of the most popular brands of braces in North London, aimed at people with mild to moderate alignment issues. If your teeth are a bit twisted, a bit protruding or leaning inwards, or crossed over, then these are the braces in North London for you.
Six Month Smiles
Imagine getting your smile straightened in just 4-9 months. That's how long it takes with these great braces. They use the tried and trusted mechanics of traditional braces but, because they work on the front 6-8 teeth, which only have one root, they can use much gentler forces. This means the brackets, which are made of clear ceramic, are smaller and the wires are finer, and coated with a tooth-coloured material. These braces blend in with your teeth rather than dominating them.
Invisalign
Instead of brackets and wires, think mouth guards made super-thin and transparent. Put them on over your teeth and they disappear from view. Hardly anyone will spot you are wearing them. Plus, you take them out to eat and drink, and clean your teeth, which gets rid of a lot of the hassle associated with teeth straightening. Average treatment time is a year.
Inman Aligner
One device to straighten and retain. The Inman Aligner works on the front teeth only and takes as little as 6 weeks to do its work.
Back to Blog