Enhance your smile in North London with Denchic
13th December 2016
If you aren't completely satisfied with your smile, you can do something about it with Denchic. We apply the latest techniques in cosmetic dentistry to give our patients the look they've always wanted. Based in North London, teeth whitening and discreet braces are just two of the varied treatments we offer. So don't let crooked or stained teeth leave you hiding your smile.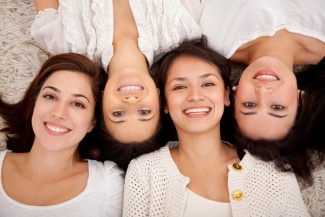 Why go with Denchic?
We understand that dental treatment can be a daunting prospect, even when you are looking forward to the cosmetic outcomes. That is why we foster a relaxed, friendly environment, where all our highly trained staff are dedicated to putting you at ease. We tailor our treatments to meet your individual needs. Cosmetic dentistry at Denchic offers a professional service with a personal touch.
Teeth whitening and braces are two popular options for patients seeking a rejuvenated facial appearance. So let's take a closer look at what they involve.
Teeth whitening in North London
Teeth whitening provides a quick way to restore the natural shine of your pearly whites, removing stains and discolouration. This can be carried out at our practice or at home using our custom made mouth trays. Whichever option you choose, a clinically safe amount of whitening gel is used to whiten your teeth. At our practice you can have results within an hour, while with home teeth whitening you can expect results after just two weeks of daily whitening gel applications.
Need braces in North London?
Teeth straightening as an adult does not need to involve conspicuous metal braces. We offer Six Month Smiles technology that uses tooth-coloured brackets and wires for a more subtle look, with results on average in six months. For even faster results Inman aligners can straighten your front teeth within sixto 16 weeks. If discretion is your top priority, then Invisalign clear aligners could be the perfect fit for you, as these removable moulds are made from a clear acrylic material.
Whatever your cosmetic dental needs, at Denchic we will walk you through your treatment journey. Our highly skilled team deliver excellent results in North London. Braces or teeth whitening are just a phone call away. So get in touch today.
Back to Blog