Do I need braces to straighten my teeth?
1st March 2016
Braces are an excellent way to straighten your teeth, but for many adults the thought of a mouth full of metal is off-putting. Fortunately, Denchic Dental Spa in North London offers some great alternative options – ways that you can straighten your teeth without the whole world needing to know about it.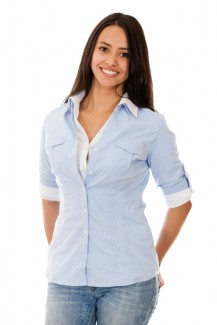 Discreet orthodontics has seen huge expansion in recent years, with many devices – both braces and aligners – being used by dentists and orthodontists to straighten teeth and correct alignment issues without having to wear standard metal appliances.
If you are interested in discreet orthodontic treatment, why not book a consultation with one of the skilled team here at our North London practice? Your dentist will carefully examine your teeth and your bite and will then run through the relevant treatment options, depending on your clinical needs, your personal preferences and your lifestyle.
The discreet orthodontic options available at our North London dental practice include:
Six Month Smiles
These cosmetic braces are a thoroughly modern method of correcting aesthetic alignment problems. Based on traditional brace principles, Six Month Smiles have an average treatment time of just six months, because they focus on the front six to eight teeth – those on display when you smile.
These braces are made from tooth-coloured wires and clear brackets, so blend in with the natural shade of your teeth.
Inman Aligner
This single clear aligner is an alternative to braces, and can be used to correct alignment issues with the top and bottom front teeth. The Inman Aligner has a fast treatment time – between six and 16 weeks – and is removable, so you can take it out for short periods, helping to maintain good dental hygiene during treatment.
Invisalign
Invisalign comprises a series of removable, clear aligners, which fit comfortably over your teeth and guide them into a new position. Your aligners will not be obvious in everyday life, and they can correct a range of orthodontic concerns.
Back to Blog