Cosmetic braces and aligners: your journey to straighter teeth starts here
26th April 2016
North Londondental spa Denchic uses cosmetic braces and aligners to subtly straighten adult teeth. We are proud to offer these treatments because we recognise the need for and the benefits of teeth straightening treatment at any age, but also understand the concerns the thought of wearing traditional metal appliances throw up for many people.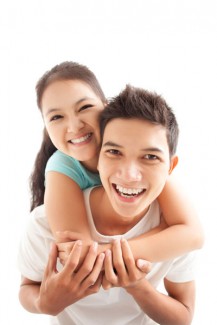 Why teeth straightening benefits clients of all ages
A large number of UK adults are so self-conscious about their smile that they rarely show it off in public. One of the biggest concerns reported is that they wish for straighter teeth – having either missed out on having orthodontic treatment as a teenager, or having experienced adult relapse – teeth moving back to their original position.
At our North Londondental spa we are always keen to extol the virtues of teeth straightening treatment at any age. As well as boosting your self-confidence, straightening your teeth makes them easier to keep clean. With fewer gaps between the teeth where food particles can get trapped, your chances of developing tooth decay and gum disease will be reduced – so long as you have an excellent home care routine and make regular visits to the hygienist and dentist, of course.
North Londonbraces and aligners: your options
Come into Denchic North LondonDental Spa for an orthodontic consultation and a member of our experienced team will conduct a careful clinical examination, as well as finding out a bit about you and your lifestyle in order to tailor your treatment to suit your needs.
At Denchic we offer:
Six Month Smiles
Cosmetic braces, designed to work quickly on your front teeth.
Inman Aligner
A single, removable aligner good for adult relapse.
Invisalign
A system of aligners to correct a wider spectrum of problems.
Back to Blog