Cosmetic braces and aligners: the subtler way to a gorgeous smile
15th March 2016
Braces were once considered exclusively for children and teenagers. However, at our Denchic Dental Spa in North London, we have seen an increasing demand for adult orthodontic treatment. We understand that the thought of wearing standard metal braces may not be appealing to many adults, which is why we have invested in discreet orthodontics and now offer several ways to straighten your teeth without everybody knowing you are having treatment.
Straight teeth without a glint of metal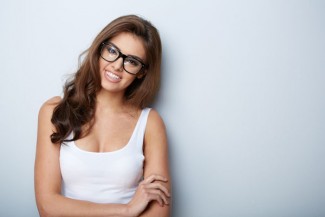 There are two options available at our North London dental practice for adults who want straighter teeth: tooth-coloured braces and clear aligners. The best option for your case will depend on a number of factors, including the type and amount of correction needed, how fast you want treatment to be, and your personal preference.
When you come into our North London practice for an orthodontic consultation, your dentist will examine the current position of your teeth and will assess how much correction is required. They will then run you through your treatment options, so that you can make an educated choice going forward.
Treatment options
Six Month Smiles
Six Month Smiles are cosmetic braces designed to work quickly by focussing on your front teeth – those visible when you smile. They comprise tooth-coloured wires and clear brackets, meaning that they will blend in with the natural colour of your teeth and not be glaringly obvious.
Inman Aligner
The Inman Aligner is an all-in-one clear aligner that is useful in cases of adult relapse, and typically takes between six and 16 weeks to work. You are able to take your aligner out for short periods, to clean and to brush your teeth, and to eat.
Invisalign
Invisalign is a series of clear aligners that fit over your teeth and gently guide them into a new position. Again, these are removable for short periods, so will have minimal impact on your lifestyle.
Back to Blog