Can braces straighten my teeth without everyone knowing
2nd February 2016
Braces are the most commonly used and most effective way to straighten teeth. At Denchic Dental Spa in North London, we understand that many adults who want straighter teeth don't want to wear traditional orthodontic devices that, while very efficient, are also very noticeable.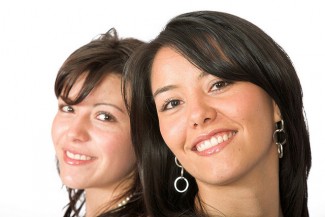 Fortunately, there are modern alternatives. At our North London dental practice, our team of cosmetic dentists offer discreet orthodontics treatment using near-invisible braces and clear aligners. These are an ideal way to straighten your teeth without the world knowing about it.
Discreet cosmetic braces
At Denchic Dental Spa we offer cosmetic orthodontic treatment using Six Month Smiles. This combines ultra-modern discreet braces with the latest innovations and techniques in orthodontics, enabling your dentist to improve the appearance of your smile quickly and almost invisibly.
Six Month Smiles braces comprise tooth-coloured wires and transparent brackets, meaning that they blend seamlessly into your mouth.
As the name suggests, average treatment time is just six months (in some cases it may be even shorter). Six Month Smiles work so quickly because they focus on the "social six" teeth – those at the front of your mouth that show when you smile. Because of the reduced treatment time, Six Month Smiles are often both less expensive and more comfortable than traditional braces.
After treatment is complete you will need to wear a retainer – either a traditional, removable retainer or a fixed, bonded retainer – to ensure your teeth stay in their new position. Your dentist will recommend the best option for you when you come into our North London practice.
Clear aligners
At Denchic Dental Spa in North London, we offer two of the most popular types of clear aligners for patients who want straighter teeth: the Inman Aligner and Invisalign.
The Inman Aligner is a single device that can move your teeth quickly – in as little as eight weeks. Invisalign comprises a series of aligners, with treatment times ranging from eight to 18 months.
Back to Blog