Brighter smiles in North London brought to you by Denchic
8th November 2016
Does your smile make you feel self-conscious? Stained teeth can have you reaching to cover your smile but it doesn't have to be this way in North London. Teeth whitening gives you the power to bring back a natural white shine to your teeth. If you're ready to feel the confidence that comes with sporting a pearly white smile, then Denchic is on hand to help.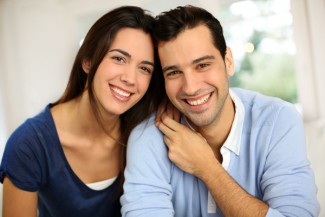 How does it work?
At Denchic in North London, teeth whitening comes in a range of packages; home teeth whitening, Phillips Zoom teeth whitening, and Enlighten Evolution teeth whitening.
Home teeth whitening lets you whiten you teeth at home armed with our custom made, lightweight, plastic mouth trays. These bespoke mouth trays snugly cover your teeth and when a whitening gel is applied, you are all set to wear them for a few hours day or night. See the bright results in just two weeks. For even faster results we also offer Enlighten Evolution teeth whitening for home use.
If you would rather have your teeth whitened in the safe and friendly environment of our practice, then Phillips Zoom teeth whitening may be just what you're looking for. A protective barrier will cover your gums and a whitening gel will be applied to your teeth. A lamp will be shone on your teeth to kick-start the process. After just an hour you will already be able to see the difference.
Whichever option you select, a brighter smile is what awaits you with Denchic in North London – teeth whitening tailored to meet your needs.
How long does it last?
White teeth whitening is a temporary treatment, there are ways to make it last as long as possible. Top tips include reducing factors that result in stained teeth. such as wine, coffee and smoking, as well as paying regular visits to the dentist for check ups and cleanings.
Denchic offers a calm, relaxing environment to dispel any nerves or anxiety. Our small, friendly team use the latest dental technology to give you the best possible results. We welcome you to drop by or get in touch and are always happy to answer your questions.
Back to Blog