Brace yourself for brighter smiles in North London
25th July 2017
Did you miss the boat when it came to getting your teeth straightened as a child? Well, worry not, with Denchic Dental Spa in North London, braces for adults are available so you no longer have to hide away your smile because of crooked, crowded, or gappy teeth.
With our modern range of braces in North London, a mouthful of metal is not something you have to put up with. Invisalign, the Inman Aligner, and Six Month Smiles all offer effective ways for you to straighten out your teeth without the embarrassment of the 'train track' look commonly associated with traditional fixed metal braces.
Six months to a new smile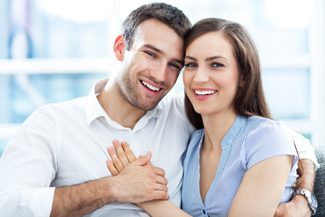 Six Month Smiles is a fixed braces system that takes on average just 6 months to deliver the desired results. This is made possible by focusing on the teeth that show most prominently when you smile. This targeted approach also means gentler forces can be used for improved comfort. Its subtle look comes from the use of tooth-coloured wires and brackets that more easily blend into the background of your teeth.
The need for speed
If you're in need of even faster results and have protruding or crowded front teeth, then the Inman Aligner could be just the treatment for you. Using nickel-titanium coils that power 2 aligner bows, your front teeth are guided into position in as little as 6 to 16 weeks.
Almost invisible
For the most discreet braces in North London, Invisalign is a clear frontrunner. Using a series of plastic aligners that snugly fit over your teeth, straighter teeth are achieved with hardly anyone noticing you are undergoing treatment. This is thanks to their thin, clear design. Being removable you can also continue to enjoy a full range of foods as you can simply remove your aligners at mealtimes.
Decisions, decisions
To find out which of our braces in North London are the right fit for you, get in touch with Denchic Dental Spa today. Our experienced dentists are here to advise you, filling you in on the pros and cons, cost and convenience. It's time to smile with confidence again.
Back to Blog