Better looking teeth
24th April 2018
Straighter teeth give you a more appealing smile. They also help you to keep your mouth clean, thus lowering your risk of tooth decay and gum disease. In North London, braces will improve the position of your teeth without disrupting your day-to-day life. At Denchic Dental Spa, we offer a variety of discreet and user-friendly braces that will enhance your dental alignment with comfort and efficiency.
Why have braces in North London?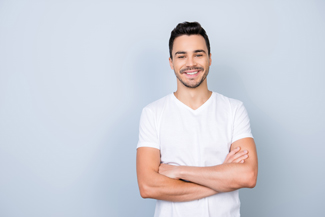 Wonky teeth can make you self-conscious. Many of our patients come to us because they want to stop keeping their teeth hidden in photos of social occasions. Even small misalignments can have a big impact on your smile's cosmetic appeal. However, people can be reluctant to have braces in North London because they imagine the treatment will be highly visible.
Our treatments are designed to stay hidden. Using transparent and tooth-coloured materials means they remain discreet while they optimise the orientation of your teeth.
Different styles
When you come and speak to our team about realigning your teeth, we'll assess your oral health and work out which of our treatments are the most appropriate for you.
You might benefit from Six Month Smiles. This treatment uses lightweight wires and brackets to adjust the teeth at the front of your mouth, the ones that are most visible when you smile. Because it makes relatively minor adjustments, the treatment time is often shorter than it is in other types of realignment work. It'll give you a smile you'll be proud to show off.
People seeking braces in North London often benefit from Invisalign. In this treatment, we'll take 3D images of your teeth and produce a series of customised aligners. Made of transparent plastic, you'll wear a set of these aligners for 7-10 days, before moving on to the next one in the series. They gently pressure your teeth into improved positions over 12-18 months, sometimes longer. They're not attached, so you can take them out of your mouth when you need to eat a meal or brush your teeth.
Better futures
Having braces in North London can dramatically improve your aesthetic appeal. The results will last for many years after the treatment is over.
Back to Blog