Alternatives to metal braces for teeth straightening
2nd August 2016
There's an obvious problem with metal braces for straightening adult teeth, and it's the fact that they are so, well, obvious. At Denchic Dental Spa in North London we appreciate that the concept of wearing a fixed metal appliance for months on end can be a significant barrier to teeth straightening for many adults, which is why we are pleased to offer our clients a number of more subtle options.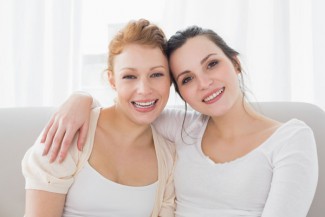 At our North London dental centre we are always eager to point out that straightening your teeth doesn't just benefit the appearance of your smile – it also boosts your health. Simply put, better aligned teeth are easier to keep clean, with fewer areas where plaque can gather. As long as you visit your North London dentist and hygienist regularly, and brush and floss efficiently at home, straightening your teeth will lower your risk of both dental decay and gum disease.
North London braces and aligners
Denchic Dental Spa in North London provides treatment with both fixed braces and removable aligners to clients who want to straighten their teeth. When you come in for a consultation, your dentist will perform a thorough clinical examination to help determine the best course of treatment to suit your needs.
Depending on your requirements and personal treatment preferences, your North London dentist may recommend:
Six Month Smiles
Six Month Smiles are cosmetic braces that work both quickly and discreetly to improve the position of the social six front teeth – those that show when you smile. This means that they can work in as little as half a year.
These braces comprise clear ceramic brackets and tooth-coloured nickel-titanium wires, meaning that they blend in well with the natural colour of your teeth.
Invisalign
This popular alternative to fixed braces involves the use of a series of clear, removable aligners to gradually reposition your teeth. They have next to no impact on your daily life, because you can take them out to eat, drink, and clean.
Inman Aligner
The fastest tooth straightening option at our North London dental centre, the Inman Aligner's unique design enables it to correct issues with the front teeth in six to 18 weeks.
Back to Blog